Habel Amakobe - Secretary & CEO
Habel is a renowned Health and Safety industry exemplary pioneer, with over 12 years hands on experience in Road Safety Management Programs nationally as well as regionally. Habel started his road safety journey as a Road Safety Team Leader at Lafargeholcim-Nairobi Grinding Plant (NGP) site. Later, he moved to Lafargeholcim-Hima, Uganda, where he pioneered implementation of country Road Safety Programs between 2009 and 2013. He then returned to Kenya to take up Lafargeholcim-Kenya, Country Road Safety Leadership & Key Logistics Accounts Consultant.
Habel is the Team Leader and Lead Consultant of Checkmate(PRSC). He is a Health & Safety alumni of Work Safe Consultants, SA, and a member of the International Safety Council, a global subsidiary of the National Safety Council USA (vide Registration H&S -100). Habel is currently the Chairman of the Technical Committee for Road Safety Movement Kenya and is a member of the Professional Association Trainers of Kenya.
Habel is an accredited Lafargeholcim 12-Modules Defensive Driver Trainer 2011 & 2013, and an accredited Smith Systems Driver Trainer (April 2015). He completed the Occupational Health and Safety Management, Auditors/Lead Auditor training course in August 2008 (OHS/08/KE/3818 BEREAU VERITAS certification) and in addition completed the Tap-Root Advanced Investigation Tool for Root Cause Analysis Team Leader course in 2010 and in addition .
Habel has worked hand in hand with various governmental institutions such as National Transport and Safety Authority (NTSA), Kenya HIV/AIDS Business Council (KHBC), various union bodies amongst other governmental agencies. He has also worked with various non-governmental agencies such as the Swedish Workplace HIV/AIDS Program (SWHP), the International Labour Organisation (ILO), Safe Way Right Way (SWRW – Uganda and Kenya), as well as private institutions such as cargo and passenger transporters, banks just to name a few.
His experience has been and continues to be a guiding force in CAWi.
Dr. Samuel Deya
Dr. Deya is a University of Nairobi alumnus with a degree in Medicine and Surgery. He is also a registered medical practitioner with the Kenya Medical Practitioners and Dentists Council (vide Reg. No.A4959). His 20-year practice experience begun as a Medical Officer of Health at Gesusu Sub-County Hospital in Kisii County. He later moved to Avenue Hospital where he worked as an Accident and Emergency Manager for 4 years and subsequently moved to The Karen Hospital where he worked for 7 years. In addition to his career, he also worked with East Africa Globalmed as a Telemedicine Consultant in 2016, and Aspen Medical International as an ETU Manager in Liberia in 2015. Currently, Dr. Deya, is a Medical Director at FortWorth Medical Center.
Dr. Deya has vast training in medical emergencies, diabetes, advanced HIV management, advanced cardiac life support, advanced trauma life support and has a certificate in Dermatology from the Royal College of Dermatologists.
Dr. Deya is a Designated Health Practitioner (DHP) registered by the Directorate Of Occupational Safety And Health Services (DOSH – reg.OSH/DHP 048), with over 12 years of active practice experience in Occupational Health and Safety. His particular focus has been in health and safety of long distance drivers and automotive mechanics. Currently he is a Health Advisor for Shreeji Enterprises Limited, Agility Logistics, Dakawou Limited and Dt. Dobie Limited.
CAWi leans heavily on Dr. Deya's vast experience especially with long distance drivers and his networks in the field of medicine.
Mike Abuko - Data Analyst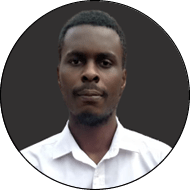 Mike joined CAWi in 2019 as a Data Analyst and has since made a positive and valuable impact in the collection and analysis of data from the field. Currently, Mike is in University working on his Double Major Degree in Telecommunication Engineering and Information Technology.
After witnessing multiple avoidable fatal accidents, Mike has made it his goal to play a tangible role in reducing and eventually preventing the unnecessary loss of life. He is a valuable asset to the CAWi team.